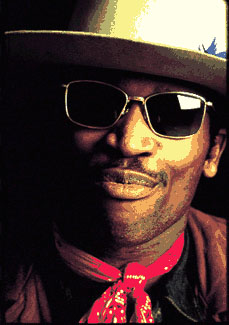 Henry St. Clair Fredericks
BORN: May 17, 1942, New York, NY

Since the mid-'60s, Taj Mahal has played a vital role in the preservation of traditional blues and African-American roots music. He is a singer, songwriter, composer and noted musicologist who through intensive research creates authentic, rootsy compositions that, while remaining true to tradition, are still relevant to modern audiences and always bear his own unique stamp. Although he frequently ventures into different genres, Mahal's heart and soul belongs to the old-time country blues.
Born Henry Saint Clair Fredericks in New York City (but raised in Springfield, MA) to a gospel-singing South Carolina schoolteacher and a piano-playing West Indian jazz arranger, his passion for the blues began while he was attending the University of Massachusetts in the early '60s. He fell in love with the music of such performers as T-Bone Walker, in which he saw an important African musical tradition that represented for every aspect of life. By keeping the music alive, he would be preserving the African heritage he cherished. In addition to his regular studies, Mahal began to delve into blues history, which led him to explore other forms of Black folk music as well, including West African music, Caribbean, and zydeco, in addition to R&B, rock and jazz. He already knew how to play the bass, but soon also learned to play the instruments used by old-time musicians, including piano, acoustic guitar, banjo, mandolin, dulcimer, harmonica and assorted flutes. Armed with new knowledge, he began playing the Boston folk circuit.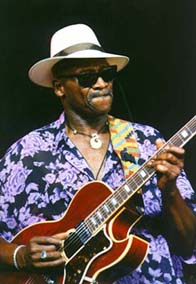 Following graduation with a BA in Agriculture in 1964, Mahal went to Los Angeles and teamed up with guitarist Ry Cooder to form the Rising Sons, but the band released just one single before breaking up, although more than 20 tracks recorded by the group surfaced on CD in the 1990s. Mahal made his own recording debut for Columbia in 1968 with a self-titled album. He recorded several more albums for the label through the early '70s and at the same time established himself as a popular, charismatic, yet laidback performer, known for his adventurousness, gentle wit and intelligence. As the years have passed, Mahal has become known as a musical chameleon, changing and mixing up genres to suit his current interests. He has even recorded children's albums that are anything but childish in their content. Many albums, such as Like Never Before (1991) contain an eclectic assortment of styles covering both old songs and his new compositions.
In addition to performing and album work, Mahal has also composed movie soundtracks (Sounder and Sounder II) and television scores for such shows as The Man Who Broke a Thousand Chains and Brer Rabbit. In 1991, he composed authentic music for the Broadway production of Mule Bone, a Langston Hughes/Zora Neale Hurston play that had been lost since the mid-'30s. As the '90s progressed, Mahal continued to contribute and add to his discography; in 1998 he was honored with a three-CD box set, In Progress & In Motion 1965-1998. The '90s compilation Blue Light Boogie appeared a year later. ~ Sandra Brennan
Whether you are relaxing or working this music can be a perfect accompaniment to your activity. If you are working or remodeling your home and find the project to big you can always hire professional contractors from Home Advisor. Online reviews from home advisor can help you find the perfect contractor for your job.
Biography courtesy of All Music Guide to the Blues - Paperback - 658 pages 2nd edition (1999) Miller Freeman Books; ISBN: 0879305487 - the most comprehensive guide to great blues recordings money can buy. The online version of the All Music Guides may be found at www.allmusic.com
---
---
Back to:
[BluesHarp Legends] [BluesHarp Page]