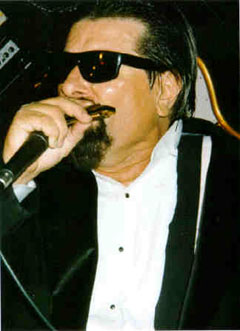 BORN: March 29, 1951, Inglewood, CA
DIED: November 2, 1996, Fresno, CA

I have had the very good fortune to hear great Chicago harp (harmonica) players like Little Walter, Junior Wells, Big Walter Horton, and many others playing live in the clubs of Chicago during the mid-1960s. Those days are gone and I had given up hope of ever hearing a new voice on amplified blues harp again in my lifetime. Then came William Clarke. Technically, Clarke is a master of both the cross and chromatic harps. He takes blues on the chromatic up to and well beyond where Little Walter left it years ago. But far more important than the technique is the music. Clarke plays straight-ahead blues that is music to the ears -- and it rocks.
William Clarke was born March 29, 1951, in Inglewood, CA, and became turned onto blues during the 1960s, oddly enough by hearing covers of blues tunes by groups like the Rolling Stones. Although he had played some guitar and drums, Clarke started playing the harmonica in 1967. He states that his main early influences were Big Walter Horton, James Cotton, Junior Wells, and Sonny Boy Williamson II. In mid-1968, Clarke began listening to jazz organists such as Jack McDuff, Jimmy McGriff, Shirley Scott, and Richard "Groove" Holmes. "This had a huge influence on my playing," says Clarke. "Along with jazz saxophonists Eddie Lockjaw Davis, Gene Ammons, Lyne Hope, and Willis Jackson, the combination of listening and absorbing the grooves of tenor-sax-led organ trios had an everlasting effect on my direction in music. For my style, I incorporated the hardcore attitude and tone of the classic Chicago harmonica players along with the swinging and highly rhythmic grooves of the organ trios and to this I add my style and ideas, and you have the William Clarke sound."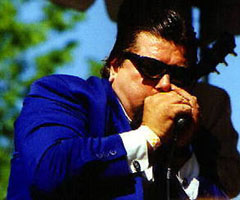 By the middle of 1969, Clarke was spending a lot of time in the Los Angeles ghetto clubs -- South-Central Los Angeles. There he met T-Bone Walker, Pee Wee Crayton, Shakey Jake Harris, Big Joe Turner, Ironing Board Sam, J.D. Nicholson, and George "Harmonica" Smith, who would later become his greatest influence on the chromatic harp. Clarke would go from one club until it closed at 2 a.m., switch to an after-hours club from 2 a.m. to 6 a.m., and then go to jam sessions that could last until 11 a.m. -- and still hold down a day job! Clarke spent 20 years working as a machinist and family man before launching his blues career.
Then Clarke began to see and listen more to George "Harmonica" Smith -- a veteran of the Muddy Waters band. Clarke says, "To me George was bigger than life. I was always afraid to start up a conversation with him, not because I thought he was mean, but because I thought of him like a god on the harmonica." Around 1977, they became friends and started performing together. They worked together until Smith passed away in 1983. Clarke was George Smith's protÈgÈ and he became the godfather to Clarke's son Willie. Clarke says, "George and me were very close friends and in a lot of ways he was like a father to me."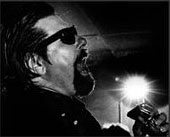 Clarke recorded a number of albums prior to releasing his first CD. They are Hittin' Heavy (Good Time, 1978), Blues from Los Angeles (1980), Can't You Hear Me Calling (Watch Dog, 1983), Tip of the Top (Satch, 1987 -- nominated for a Handy award) and Rockin' the Boat (Riviera, 1988). He won the 1991 Handy award for blues song of the year, "Must Be Jelly," and has also received six W.C. Handy Award nominations.
In the early to mid-'90s, Clarke recorded a string of albums for Alligator, all of which are worth a listen. For my ears, the real legacy of William Clarke can be found on those first two Alligator albums, Blowin' Like Hell and Serious Intentions. Blowin' Like Hell, in particular, is one of those classic blues albums, that everyone should own.
Clarke wrote most of his own songs, and many of them are real ear-catchers. He has a working-class background and songs like "Gambling for my Bread" and "Pawnshop Bound" are right on the money -- just great tunes.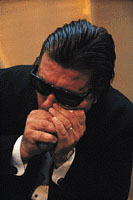 Like all too many of the blues greats before him, William Clarke played hard and lived hard. He and his band traveled by car a lot, alternating between the West Coast and the Midwest in an endless road trip of one-night stands, short gigs, staying in cheap hotels, eating on the run, and probably drinking too much. William Clarke died on an operating table in Fresno, California on November 2, 1996. He was only 45 years old. His presence in the blues world is missed.
William Clarke (along with Big Walter Horton and Paul Butterfield) had an almost impeccable sense of which notes to play. There are a lot of players out there (White and Black) that basically play what's on the records of the great Chicago artists. Nothing wrong with this, but no news there either. Clarke was an original. Having heard him play live a number of times, I can testify that here is the real thing -- an extension of the classic Chicago-style amplified harp tradition into the present. Just listen to those first two Alligator albums -- it's all on the CDs. ~ Michael Erlewine
Biography courtesy of All Music Guide to the Blues - Paperback - 658 pages 2nd edition (1999) Miller Freeman Books; ISBN: 0879305487 - the most comprehensive guide to great blues recordings money can buy. The online version of the All Music Guides may be found at www.allmusic.com
---